Lending API
Lending Platform
From applications to servicing, our intuitive platform allows you to manage your lending operations easily in a single application. Keep track of your portfolio with our simple dashboards and reports.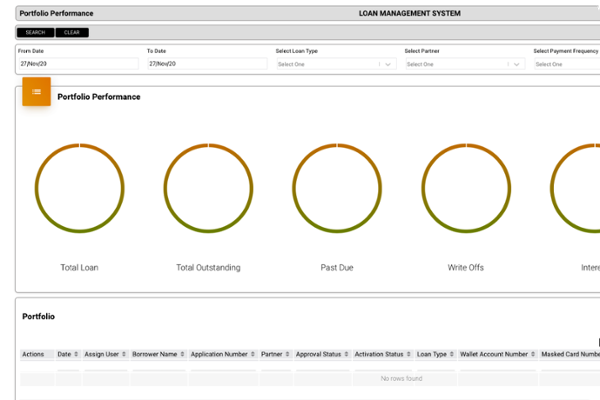 What you're trying to do
You need to manage the lending side of your business, gathering information from customers, verifying their identity, and then managing the loan over its lifecycle.
How we can help
Our software platform provides an end-to-end lending product for you and your customers. Whether it's collecting loan applications or managing existing loans, our Lending API is the right product for you.
Simple Pricing.
Pay for only what you need.
Lending Software

Basic

1,000 Accounts

All plans subject to contract.

Pro

25,000 Accounts

All plans subject to contract.

Enterprise

Over 25,000 Accounts

Loan Account
$10.00 Per Month per load account
$8.00 Per Month per load account

Custom solutions and individualized support to help you manage at scale.

Contact Us to learn more about how we can help you.

Loan Application
$5.00 Each
$5.00 Each
Credit File Pull
$2.50 Each
$1.50 Each
Credit Report Filing
$1.00 Per loan account
$1.00 Per loan account
Licensing Fee
$12,500 Per month
$12,500 Per month
Email Support
24-hour Call Centre
Dedicated Account Rep
-
Dedicated Technical Rep
-
Sandbox Access
Testing Environment
-
* For businesses operating in higher risk industries, additional monitoring fees may apply. Contact us for more details today