Learn more about DCBank's payment solutions
Powerful API
DCBank's payment solution has been designed from the ground up to be flexible and agile. Our comprehensive and intuitive API gives developers full control.
API Preview
What you can do:
Provide existing customers with VISA Direct AFT services

Create VISA Direct transactions

Create one-time transaction

Set up recurring transactions

Cancel transaction actions

Freeze recurring transactions

Save recipient (payee) information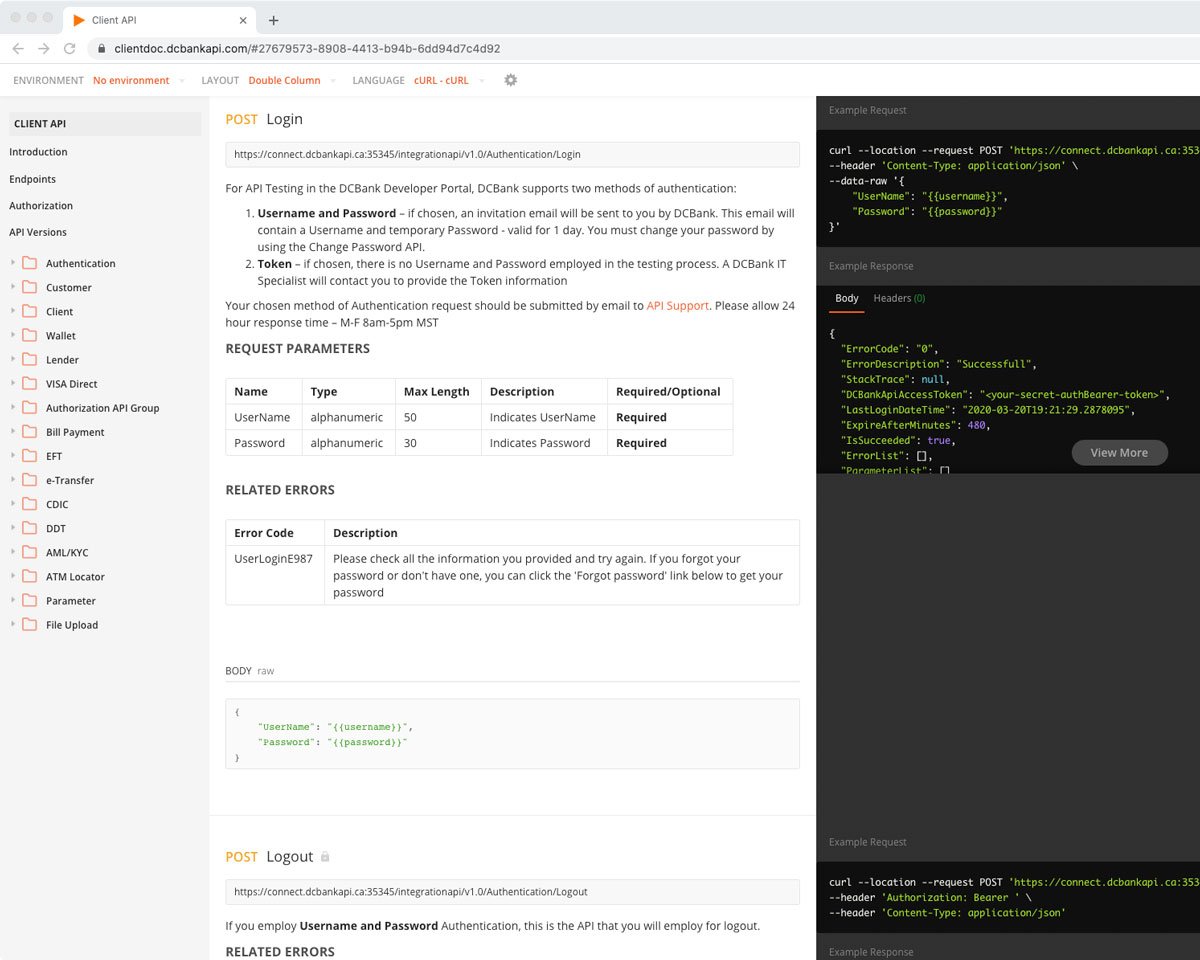 Change the way you pay
What you're trying to do
As a business, you need to collect or deposit funds into your customers account. Each customer prefers a different method, with a different financial institution. You need to move money quickly, securely, and in a variety of ways.
How we can help
Our Financial Products API was designed to make moving money as simple as possible. DCBank provides flexible payment options that simplify integration and provide powerful capabilities that suit every scenario.
Simple pricing
Pay only for what you need
Basic

5,000 Transactions

Per Month, $500 Monthly Minimum. All plans subject to contract.

Pro

100,000 Transactions

Per Month, $3000 Monthly Minimum. All plans subject to contract.

Enterprise

Over 100,000 Transactions

EFT
$0.65 Per transaction
$0.50 Per transaction

Custom solutions and individualized support to help you manage at scale.

Contact Us to learn more about how we can help you.

eTransfer
$1.00 Per transaction
$0.90 Per transaction
Bill Payment
$0.70 Per transaction
$0.65 Per transaction
Reversed or Returned Transaction
$2.00 Per transaction
$2.00 Per transaction
Visa Direct
$2.25 Per domestic transaction
$2.00 Per domestic transaction
$9.00 Per international transaction
$7.50 Per international transaction
Trace Request
$15.00 Per transaction
$15.00 Per transaction
Bulk eTransfer Only available on Pro plans.
$0.75 Per transaction
Interac Fee - Request Money
35bps To a maximum so $3.50
35bps To a maximum so $3.50
Inbound e-Transfer Transactions
$ 0.05 Per inbound
$ 0.05 Per inbound
Email Support
24-hour Call Centre
Dedicated Account Rep
-
Dedicated Technical Rep
-
Sandbox Access
Testing Environment
-
* For businesses operating in higher risk industries, additional monitoring fees may apply. Contact us for more details today