Fintech Award
$1 MILLION ANNUAL FINTECH AWARD IN PARTNERSHIP WITH PLATFORM CALGARY
November 2, 2021
DCBank today announced that it has executed a Memorandum of Understanding with Platform Calgary with respect to an initiative to launch an annual $1 million Fintech Award in Calgary. Through the partnership, the Bank will be the title sponsor of the Fintech Award, and together with Platform Calgary will aim to accelerate the growth of fintech startups and transform Calgary into a global hub for fintech innovation.
The Award is intended to provide a non-dilutive award of cash and additional services to startups working in fintech ($500,000 to the top applicant, and $250,000 each to the second and third runners up.) DCBank is leading the Award with a financial commitment of $1M over four years, and along with Platform Calgary are currently working to engage additional financial contributors and other partners to develop a world- class Fintech Award program for Calgary.
"Platform Calgary is laser focused on making Calgary a global hub for startups and innovation. Collaboration is at the core of how we work, and this visionary partnership with Digital Commerce Bank promises to be a game changer for both our city and the trajectory of the award winners. Digital Commerce Bank and the team have shown that they know how to build high growth businesses right here in Calgary, and we couldn't be happier to help them pay it forward."
October 14, 2022
45 applicants. 24 selected companies. 11 finalists.
2 winners.
On October 14th, after months of screening, workshops and due diligence, Calgary-based fintech companies Fillip and Miq were announced as the cash winners of the inaugural Digital Commerce Bank - Calgary Fintech Award.
Thank you to all who were able to join us for the celebration, made possible by the generous contributions of Digital Commerce Bank, Band Capital Partners, Postmedia, Plug and Play, Fintech Cadence, Finnovate.io, Torys, Calgary Economic Development, and Portage Ventures.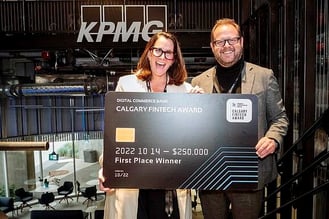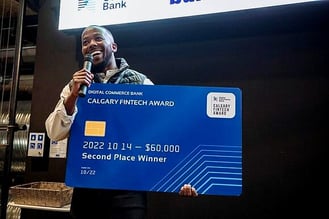 Congratulations to Alice Reimer (left), Jonah Chininga (right), and all 11 finalists (not pictured)
Let's continue building fintech in Calgary together.
The award ceremony marks a wrap on 2022's program, but there are many opportunities to build on the impact as we grow the Calgary Fintech Award for years to come. Reach out to get involved.
"For us and for Calgary, this award is an opportunity to shine – to demonstrate to the world that Calgary is the best place to start, scale and succeed in tech and in business," (full article here) - Fillip CEO, Alice Reimer.
As seen in the National Post: "The Calgary Fintech Award helps fintech startups to accelerate their business by providing the prize winners with cash prize money that is non-dilutive capital. The award encourages them to keep growing in Calgary" (full article here) - Jeffrey Smith, President & CEO at Digital Commerce Bank.
Sign Up for updates.